Is there such a thing as 'Organizational Intelligence'? 'Resilience': who has it and how do I get some? 'Non verbal Elegance'….um, what the heck is that? Attending the Thinking Collaborative Global Conference in KL a few weekends ago was a chance to learn about, see modeled, and dig into some of the research underlying 'how we work' including the three topics I opened with.
Cognitive Coaching and Adaptive Schools are now one organization called Thinking Collaborative and the event hosted by ISKL was the first of it's kind in the Asia region.
Bob Garmston opened the conference with a keynote on Resilience. "Resilience is not something you can teach" rather is it a mindset or a character trait that people acquire over time in response to the circumstances of life–and quite often, hardship and challenges. What is our role as teachers in helping students develop resilience? Bob challenged the many international school educators present to think about what kinds of life experiences third culture kids face and how we can foster student resilience in that context. Based on research he proposed that there are four areas to keep an eye on: 1. Social competence, 2. Cognitive-problem solving ability, 3. Emotional Autonomy, and 4. Sense of purpose and future
An indicator of possessing the innate capacity of resilience is demonstrated strong personal competency across these areas. How can teachers help students who may be low in one of these areas? During the session we explored case studies and practiced reframing situations to support student efficacy, consciousness and interdependence. (I found Resiliency: What we have learned by Ryan & Hoover an interesting read.)
Day two started with a powerful group simulation led by Bill and Ochan Powell which demonstrated the power of Organizational Intelligence. The group is mightier than the individual–well unless there is an imbalance in power and one member dominates. (Book on this topic: The OIQ Factor: Raising Your School's Organizational Intelligence)
We were able to do some nifty statistical calculations that brought home that the group truly does possess greater intelligence–but to benefit from it you need to have culture of respect, trust and collaboration. We learned that the elements of space, time and social sensitivities are key factors that impact an organization's intelligence. One of the activities for this session included sorting examples from our daily professional life in the four quadrants of the TIme & Task Management Matrix. Ouch–how reality bites!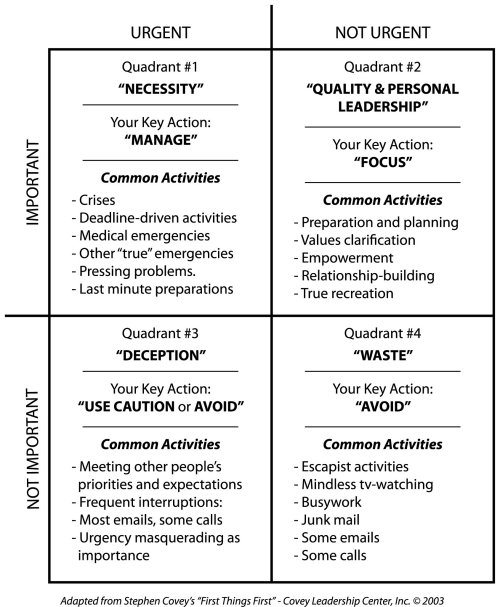 One of the most interesting break out workshops I attended was 'Nonverbal elegance with paraphrasing' presented by Bruce Wellman. It turns out that humans "have a rich repertoire of nonverbal expression" that when cued into, can be helpful indicators of whether we understand things fully or not. This workshop was like an episode of 'Lie to Me'! Bruce shared examples of students describing their understanding (e.g. a science experiment) where cues in their nonverbals demonstrated a mismatch. Given that up to 90 per cent of what we say is echoed with visual gestures, learning to be more aware of incongruencies can provide teachers with indicator that a student is in Vygotsky's 'zone of proximal development'. Research supports that intervention from a teacher at those points moves learning forward.
Where did these ideas come from? It turns out that research into mirror neurons in the brain uncovered the truth about how intertwined our communication system actually is. Bruce introduced us to four physical references to keep an eye out for: 'characters in space'–where do they point or put them?, 'concepts in space'–held high, low or between fingers?, 'sequence or hierarchy'–up & down or left to right? and 'time orientations'–do they count them on fingers, pointing left or right? We finished off the session with time to practice noticing these markers in conversations between participants as well as in a few amusing clips of famous politician.
It was a great learning experience topped off by meeting some fantastically friendly educators from around the region that we got to discuss and work with over the weekend.

Adaptive Schools Strategy